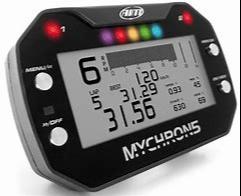 Mychron Options
MyChron 5s -
The all-new MyChron5S is the latest game-changing data logger for Kart Racing. It offers 1 Temperature Sensor besides sampling all your kart data, feature all the advantages of a new concept GPS plus a lot of new functions, designed to provide more complete and reliable information

Features:
GPS frequency 25 Hz

Internal 4GB Battery

5 RGB LEDs

2Alarm LEDs

Track Database

Two Satellite Systems

Water Temperature 
The GPS frequency has improved from 10 to 25 Hz and the precision accuracy has improved from about 5 feet to 2 (1.5 m to 45 cm in average).
Other Features:
Redesigned Wi-Fi Module: a new firmware is under test for improving the baud rate. The data download will be 5 times faster.

Empowered processor. The new one is the same we already have on the higher range of our products, 2 times faster than the MyChron5 one and with much more memory: we have a lot of firmware features just waiting for more internal memory for being developed.

Different Inertial Platform, at 9 axes. This will help with the development of many useful math channels.

From here on, the characteristics that make MyChron5 S a point of reference for the world of karting.

MyChron 5S 2T -
The all-new MyChron5S 2T is the latest game-changing data logger for Kart Racing. offers 2 Temperature Sensors inputs. Water, under spark cylinder head (CHT) or exhaust gas (EGT). The number of temperature inputs is the only difference between the MyChron 5 and the 2T. 
TWO temperatures under your control:
Especially engineered for the most demanding racers, MyChron 5s 2T permits you to monitor your kart performances by controlling two engine temperatures instead of one. MyChron 5s 2T samples data related to two temperatures, coming from:
Two thermocouples: to keep carburation under control

Two thermoresistors: to measure the engine's working temperature

One thermocouple and one thermoresistor: to monitor the key parameters of your engine 
Terms & Conditions
Please review the following terms and conditions ("Terms of Use") that govern your use and purchase of products (collectively, "Use") of our Site. Your Use of our Site constitutes your agreement to follow and be bound by the Terms of Use.
THESE TERMS OF USE INCLUDE A CLASS ACTION WAIVER AND REQUIRE BINDING ARBITRATION ON AN INDIVIDUAL BASIS TO RESOLVE DISPUTES. DETAILS ARE SET FORTH BELOW.